Toulouse, capital of aeronautics!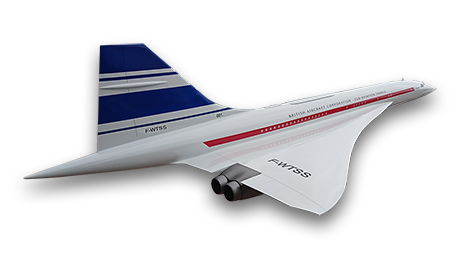 The company JF-TAPIA Industrial Models is specialized in the production of unique parts of old airplanes in metal of all scales.
We study and design high quality "prestige" models, for enthusiasts, model makers, collectors or even museums!
We are a partner of the Aerothèque, Cap Avenir CONCORDE and Aéroscopia Museums.
Dewoitine 520 Model
Collector
---
Realization of a Dewoitine 520 cutaway fuselage. 1/5th scale. Length: 2000 mm.
Made in welded brass from original set of plans.
Aéroscopia Museum
Blagnac
---
In 1988, when the Aerothèque Museum was created, our company produced a magnificent collection of airplane models at the request of Aerospatiale. These models are faithful to the presentation of the planes during their first flight.
The objective of the Museum was to present all the planes which had been designed in Toulouse and whose inaugural flight had taken place on mythical runways such as Montaudran, cradle of Aéropostale and its pioneers, Latécoère, Dewoitine, Daurat , and many others.
The scale chosen for this production was 1:25
A rich collection of 40 unique models.
Visit the Aérothèque website!
MIRAGE and RAFALE Models
Marcel Dassault
---
In 1990, we produced models of Marcel Dassault, Mirage, Rafale, Alpha Jet, ATL, etc...
These models, made in resin and decorated by hand, are available in different versions, single-seater, two-seater, patrol.
The scale chosen for this production was 1:50
Gray marble plinth
Custom liveries
Airbus family collection
Exposition
---
Our company has produced a whole collection of Airbus planes models presented during a traveling exhibition.
The aim of the exhibition was to present the different Airbus family models. All models were offered in a "stripped-down" version
The scale chosen for this collection was 1:100 and 1:33
Airbus A320, A380 & Beluga
Models made of resin