The boat model specialist!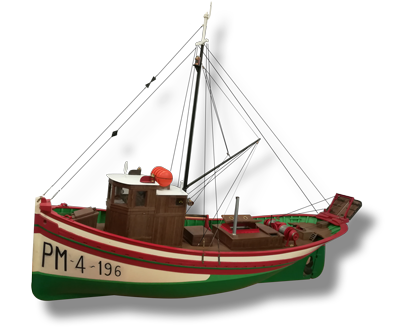 The company JF-TAPIA Industrial Models is specialized in scale models of boats, all models, all scales, steam electric and thermal propulsion.
We study and design high quality models, "à la carte", for model makers who do not have the time, no workshop, but who wish to "navigate just for fun", for collectors or even museums !
Some "prestigious" models of trawlers or old tugs, fiberglass hulls, fully equipped or not with radio or propulsion mode, decorated, very fine definition fittings, in brass, dural or resin.
New in 2022
Manufacture of steam boilers
Naval vaporist since 1977, I offer you the production of silver-brazed copper boilers.
Precision and quality are essential, I attach great importance to the safety of my products
Do not hesitate to ask!
Contact us
Hercules Model
American tugboat
---
In progress Steam propulsion Ship model.
Welded brass superstructures and fittings. Unique piece. Launch scheduled for 2021!
The scale adopted was 1:25
Total length: 1840mm
The 5000 working hours are reached!
Model of the ALBATROS
Jules VERNE
---
Entirely drawn after reading Jules VERNE's books.
Superstructures made of basswood and mahogany, all the fittings are made of brass
Total length: 1250mm
Unique Piece!
Wooden Steam Drifter Trawler Model
Collector
---
Creation of a model of an English trawler from 1912, steam propulsion. Wood and aged brass superstructures.
The scale is 1:12
Total length: 1650mm for a weight of 40kg
Unique piece!